We suggest using Microsoft Edge, Google Chrome or Mozilla Firefox browser for the best user experience.
OK
7 tips to help you become better at selling professional Microsoft Dynamics 365 services
Free e-book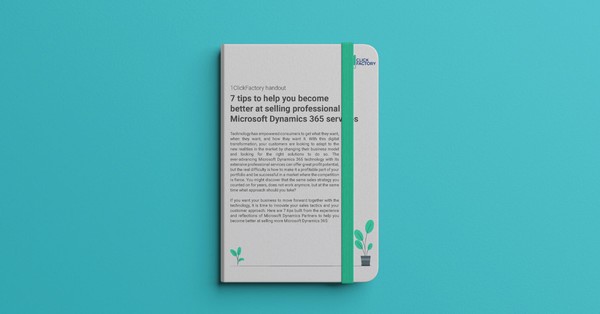 Reading time: 7 minutes
This document is best for: 
You might discover that the same sales strategy you counted on for years, does not work anymore, but at the same time what approach should you take?
If you want your business to move forward together with the technology, it is time to innovate your sales tactics and your customer approach.
Here are 7 tips built from the experience and reflections of Microsoft Dynamics Partners to help you become better at selling more Microsoft Dynamics 365.
Already 1ClickFactory Business Portal user? Sign in and download:
| File name | |
| --- | --- |
| 7 tips to help you become better at selling professional MS D365 services.pdf | Sign in to download |