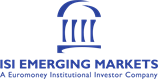 Customer Case Story, 2011

Internet Securities, Inc., trading as ISI Emerging Markets, delivers hard-to-get information in more than 80 emerging markets through its award-winning online Emerging Markets Information Services. ISI subscribers include top investment banks, corporations, law firms, consultants, investment and insurance companies, universities and libraries, multilateral organizations, and others.
In addition to worldwide headquarters in New York and European headquarters in London, clients are served through 30 offices in Asia, Africa, Europe and Latin America. ISI has approximately 700 employees globally.


Situation
ISI Emerging Markets for local statutory reporting have been using many different business solutions and platforms, ranging from Navision version 3.1 at its US headquarters, Sun Microsystems in its European headquarters and various local solutions around the rest of the world. For overall group management reporting, the company used Navision version 3.1.
Active in more than 30 countries worldwide, the company was looking for one solution that could answer all its business needs. Firstly, ISI wanted a solution that would ensure that all local offices only use one finance system to complete multi level group reporting throughout the entire organization. Secondly, ISI Emerging markets was looking for a solution that could handle interfaces into all internal systems - a CRM system and two different databases provided by a third-party vendor and a data provider. The company also needed the solution to be able to handle multiple currencies and support reporting in a range of currencies. And finally, the implemented system had to be able to be localized to meet the local requirements of each office, while maintaining group policies and reporting procedures at a group level.
Solution
ISI Emerging Markets, supported by its partner Partner Power International, a global provider of Microsoft Dynamics ERP and CRM solutions and services for multi-national organizations, came to the decision that Dynamics NAV solution development could address all of the business challenges the company was facing. In some of its 29 offices around the globe, ISI Emerging Markets was already using an earlier version of Microsoft Dynamics NAV 3.1.
Partner Power International entrusted 1ClickFactory, a global outsourcing development partner for Microsoft Dynamics partners, to perform the Dynamics NAV upgrade from version 3.1. to NAV 2009 and localization project. As part of the upgrade, a core functionality module was developed around the key business processes. The module integrates the Microsoft Dynamics NAV solution with other systems used within the company.
As the next project stage, the core functionality was localized and implemented for country-specific Microsoft Dynamics NAV versions. These included ISI Emerging Markets' offices in the US, China, Bulgaria, Romania and India. The implementation process is underway for the next set of ISI offices, which will also be upgraded from older Microsoft Dynamics NAV versions and carried over to the standardized core module on the newest Microsoft Dynamics NAV version.
Benefits
After the Dynamics NAV solution upgrade and localization project, ISI Emerging Markets experienced a number of business benefits.
First of all, the company has automated the reporting process, considerably reducing the time and effort on reporting and the manual work leading to duplication of work. Secondly, since all of the internal systems are linked into Dynamics NAV there is no manual interference between the CRM and the billing process, allowing billing to be done automatically from the contracts and ensuring accuracy and completeness. Finally, having a centralized solution for the first time gave headquarters an indication as to the quality of work done by the teams around the world, having real-time information at any given moment has proven to be beneficial for making correct business decisions.
Malki Sprung, Project Manager of ISI Emerging Market, comments, "The business outcome of partnering with 1ClickFactory exceeded our expectations. They were able to jump into the project very quickly and successfully lead the project till the end. The same mentality, professionalism and high business understanding of 1ClickFactory specialists were the key success drivers in this project. It makes perfect sense given their ability to transform business requirements into a software solution with outstanding quality."
"This year we were honored to receive the 2011 Customer Excellence Award. I must say, that earning this award is just as much as 1ClickFactory's honor as they were our key supporter to achieving success with our Microsoft Dynamics solution," adds Mrs. Sprung.