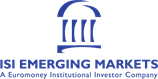 Customer Case Story, 2011

Situation
Internet Securities, Inc. (trading as ISI Emerging Markets) delivers electronic information products by subscription to institutional customers around the world. It aggregates and produces unique content including full-text news articles, financial statements, company information, industry analyses, equity quotes, macroeconomic statistics, and market-specific information, which are derived directly from more than 16,000 local and global publications.
Through its network of 29 offices in 27 countries, ISI Emerging Markets provides hard-to-get information covering more than 80 emerging markets.
Being represented in a solid number of countries, ISI needed to improve their business management system so that with better organizational support, better integration with their CRM system and better subsidiary - headquarter integration that would improve business processes and the productivity of each user. ISI Emerging Markets' challenge was to improve customer services getting more comprehensive view of each customer relationship, which enables faster response to customer inquiries. The company set also ambitious growth plans and needed to feel confident its technology infrastructure would meet this demand.
In some of 29 offices around the globe ISI Emerging Markets was already using an earlier version of Microsoft Dynamics NAV 3.1.
Solution
ISI Emerging Markets asked Partner Power International, a global provider of Microsoft Dynamics ERP and CRM solutions and services for multi-national organizations, to provide a technology solution that would improve business processes as well as simplify data exchange through the organization. The developed solution needed to increase users' productivity ensuring employees to spend less time and efforts on entering data into the systems and reducing risk of errors on the same time.
In cooperation with 1ClickFactory, a Microsoft certified Upgrade Center, specialized in developing and upgrading customized Microsoft Dynamics solutions through Microsoft Dynamics partners, Partner Power International found the ways for ISI Emerging Markets how to share up-to-date information among offices, customers, and partners more effectively ensuring more simple and well-timed customer relations management process and increasing business productivity.
1ClickFactory was empowered to upgrade the international customer to Microsoft Dynamics NAV 2009 and implement CORE development project to ensure tighter Microsoft Dynamics solution integration with an existing CRM system.
Benefits
The upgrade of existing solution to the Microsoft Dynamics NAV 2009 version and additional development brought the customer tighter solution integration with other internally used business systems, resulting in elimination of manual work, more accurate reporting and faster invoicing process.
"1ClickFactory delivered highly professional development services," comments Ms. Sprung. "The impression was that 1ClickFactory developers have high business understanding and they are able to convert all our business needs to ERP solution."
The upgrade and CORE development project was performed quickly, at the agreed quality and without disruption to customer business. Having faster invoicing process ISI Emerging Markets are able now better to serve its customers. Data is entered into the system only once now and the company has significantly increased users' productivity as well as reduced a number of operational errors. The accurately reports on information helps ISI Emerging markets to gain better control of the business and ensures more simple and well-timed decision making.
"Upgrading to the latest version of Microsoft Dynamics NAV allowed our organization to achieve maximum business advantage from new technology and to deliver these benefits to our customers. It created for our business a distinct competitive advantage. Using 1ClickFactory Upgrade Centre saved us about EUR 1.000 per day for the duration of the project", says Malki Sprung.